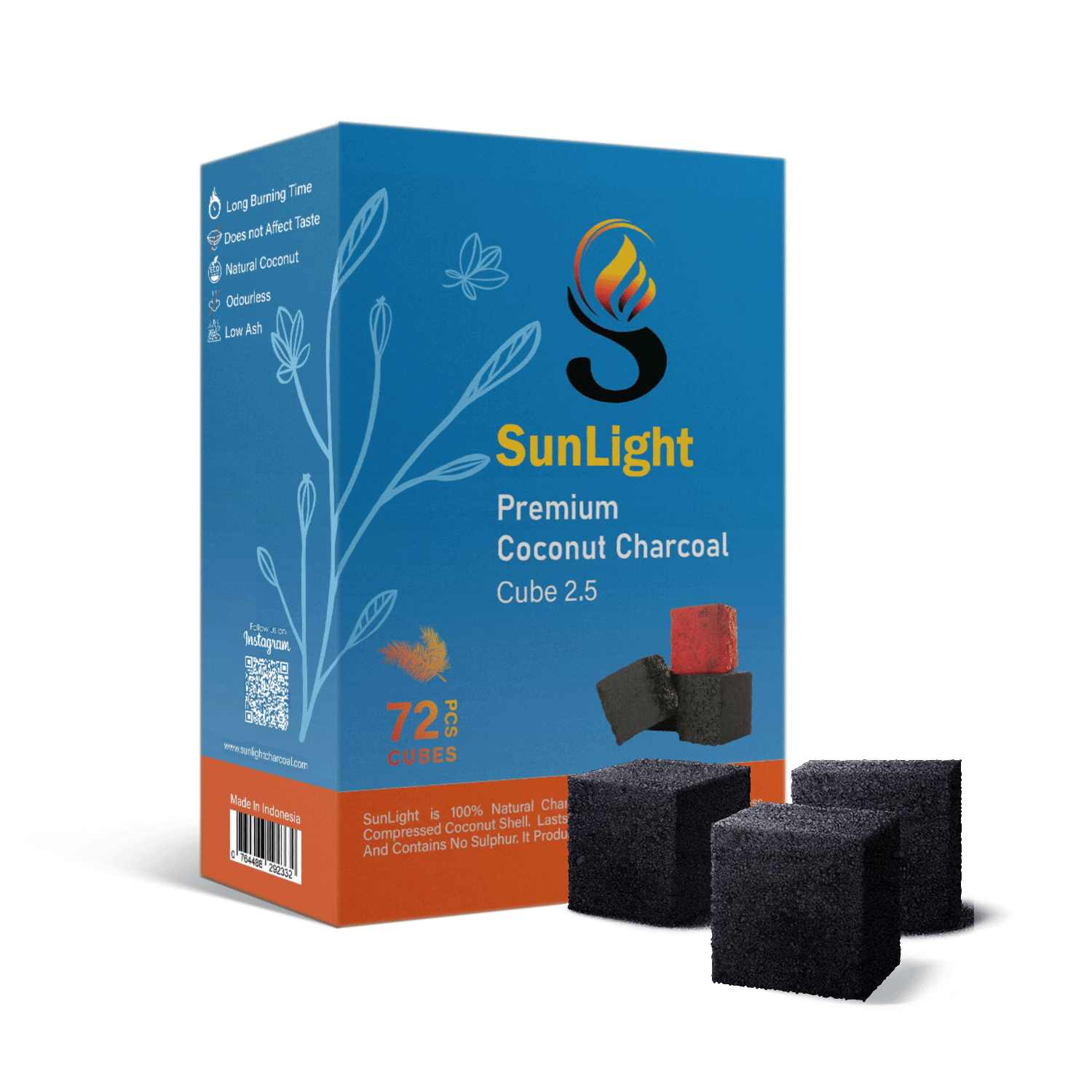 Sunlight Coconut Hookah Charcoal Cubes - 72 Pcs
Sale
Availability: In stock
Availability: In stock
We are thrilled to introduce Sunlight Charcoal's Top Game Changer – the Premium Hookah Cubes, a perfect pairing for your shisha experience. This exceptional product, featuring 72 individual cubes, brings an upgrade to your hookah moments.
What sets our hookah cubes apart is our ELITE PACKAGING. Each box of Sunlight Charcoal Premium Hookah Cubes arrives at your doorstep protected in a Crumble-Proof Vacuum Sealed Plastic Casing, and is accompanied by an Anti-Humidity Pouch. This means, regardless of conditions during transport, your charcoal arrives in impeccable condition, ready to transform your shisha experience.
Weighing in at a substantial 1.8 kilograms, our charcoal packs more punch than standard offerings. This enhanced weight is due to the HIGH DENSITY of each cube, a deliberate design choice aimed at reducing ash and maintaining the size of each briquette. So you're guaranteed a smooth and clean smoke session every time.
One of the key benefits of choosing Sunlight Charcoal Premium Hookah Cubes is the LONG BURNING TIME. You'll be free from the unpleasant taste of burnt charcoal that can disrupt the tranquil pleasure of a hookah session. These cubes are ALL NATURAL, made from coconut shells from the tropical coast of Southeast Asia, leaving ZERO TRACES OF BAD TASTE.
Each cube promises a burn time of OVER ONE HOUR. These light tablets are odorless, which lets the intense, delicious aroma of your chosen shisha take center stage. Enjoy the flavor as it should be – pure and unadulterated.
HOW TO USE: Our Premium Hookah Cubes are not quick-light. Do not use matches or lighters. Use a tong to place the charcoal on a stove top or burner plate. Heat on high, and only remove when the coals glow red. Now, you're set for a relaxed, uninterrupted hookah session!