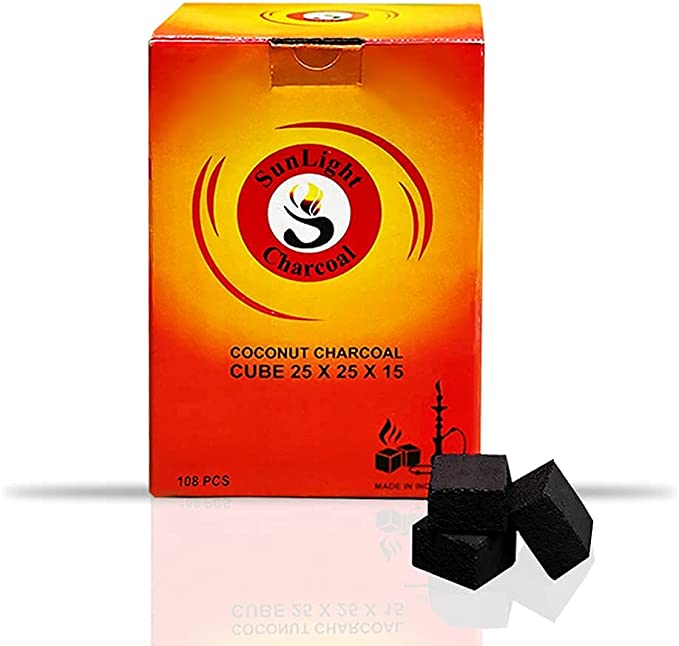 Sunlight Coconut Hookah Charcoal Flats - 108 Pcs
Sale
Availability: In stock
Availability: In stock
Introducing the Sunlight Coconut Charcoal Flats - 108 Pieces
Indulge in the Ultimate Hookah Journey with Sunlight Coconut Charcoal Flats, now available in an exciting pack of 108! These charcoals have been designed for connoisseurs who seek a Top-Quality, Smoother, and More Extended hookah experience. The days of unwanted odors marring your sessions are behind you.
Differentiating themselves from traditional charcoals, our flats provide a No-Smoke session, letting you appreciate the pure and unaltered flavor of your shisha. Plus, their Minimal Ash feature ensures a quicker, hassle-free cleanup post-session.
Sunlight Coconut Charcoal Flats are not just about enhancing your hookah experience; they're also about making a Positive Environmental Impact. Choosing these eco-friendly charcoals means contributing to a greener, healthier planet.
Owing to their compact size, the Sunlight Coconut Charcoal Flats make for the Perfect Partner for your On-The-Go Hookah Kit. Savor the exquisite joy of a premium hookah session wherever and whenever you want, thanks to the convenience of these exceptional charcoal flats.
Step up your hookah game with the Sunlight Coconut Charcoal Flats, now in a larger pack of 108. These aren't just another accessory - they're an Enhancement to your hookah experience! Make the smart, green choice today. Immerse yourself in the purity of your hookah sessions with these top-notch, low-ash, smokeless charcoal flats. After all, Your Hookah Deserves the Very Best, just like you!
How to Use: Ignite the charcoal flat using a lighter or stove until it turns glowing hot. Using tongs, place the heated charcoal on your hookah bowl. Remember, Safety is Paramount - steer clear of handling the hot charcoals barehanded.